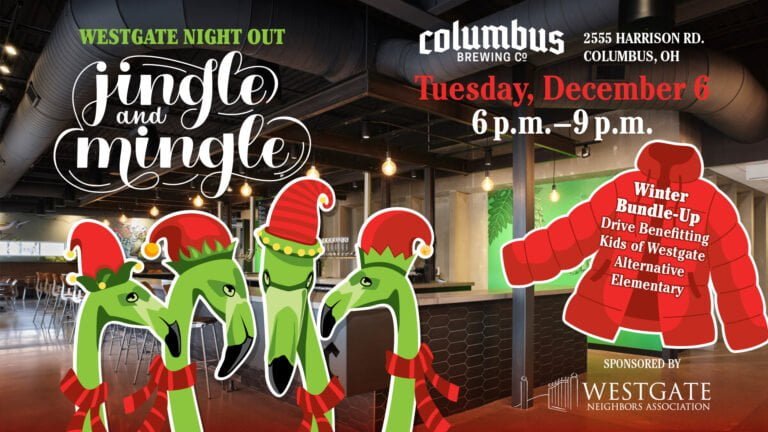 Let's get social for a cause and make it a warmer winter for a child at Westgate Alternative school. Come enjoy some holiday spirits and food with friends and neighbors!
 Raffle tickets will be available for purchase for some great prizes! Raffle dollars and money donated will go towards the purchase of coats, hats, gloves and scarves for kids in need. You can also donate online through our WNA website by clicking on the link or QR code. Recommended donation is $10.00 for a hat, scarf and/or gloves and $30.00 for a coat.
Columbus Brewing Company
Tuesday, December 6
6:00 p.m.–9:00 p.m.
Cash bar
Food available for purchase
Saturday, March 18, 2023 | 7:30 p.m.
Sunday, March 19, 2023 | 2:00 p.m.
Columbus Brewing Company
769 E. Long St., Columbus, OH 43203
Westgate Night Out: Jingle & Mingle and WNA Winter Bundle-Up Drive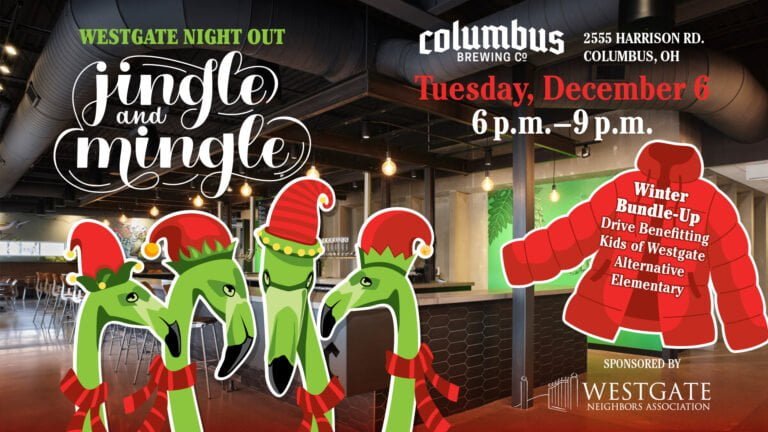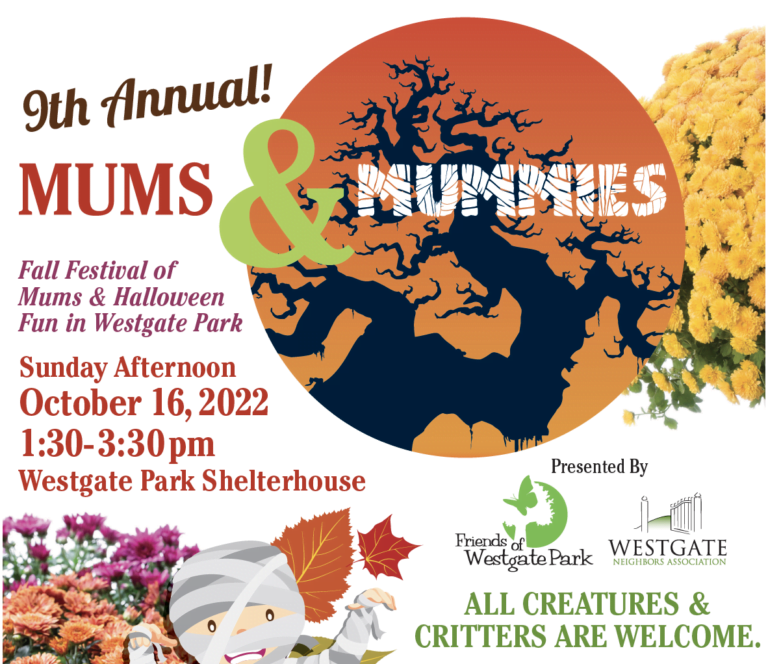 Mums & Mummies

Westgate Park Shelterhouse
Fun for the entire family – Festival of garden Mums and Halloween Fun!
Produced by Friends of Westgate Park and Westgate Neighbors Association
Costume Contests and Parade for both kids & pets

Games and Activities

All creatures & critters welcome!

"Trunk" or Treat and Food

Fireside Stories

Hundreds of colorful garden Mums in this unique collection for guests to stroll through
Baked good sale

Mum Sale & Raffle
Proceeds to benefit Westgate Park
Sunday, Sept 11th 1:30-4pm
Event Details:
Sunday, Sept 11th
1:30-4:30pm
Westgate Shelterhouse
RSVP REQUIRED BY 9/4
Join us for a members-only appreciation luncheon!
Buffet includes … Desserts, Beverages, Door Prizes, and Live Music!
Saturday, August 27th from 1-4pm
Westgate Neighbors Association invites you to experience the Worldwide Play Music on the Porch Day event right here in Westgate on Saturday, August 27th! ***time is subject to change***
Bring a blanket, family, friends & enjoy the (Family-friendly entertainment; some includes music specific for kiddos/Disney).
Quarterly Community Meetings
Community meetings will be held the last Tuesday of May, August, and October
7 p.m. at Parkview United Methodist Church 
Meeting Goals
Discuss topics of interest
Discuss issues affecting our area
Review implementation of projects
Learn about upcoming events
And more!
General meetings are held quarterly and are open to all. Meetings address topics of interest, issues affecting our area, implementation of projects, and upcoming social events.


Membership in WNA is open to everyone who is interested in contributing to the betterment of the neighborhood. ALL ARE INVITED.
Parkview United Methodist Church, 344 S. Algonquin Ave. 
Westgate Home & Garden Tour is Saturday, June 11th from 2-6pm
Event Details:
Saturday, June 11th, 2pm – 6pm
Registration begins 1:30pm at West Gate Lodge
Pick up your wrist bands and tour book BEFORE going on the tour
7 stops total this year
Tag us at @westgatecbus to show us all the fun you're having!
Saturday, June 11th tickets will be $15 at the door with cash or credit card starting at 1:30pm.
Pick up your wrist bands BEFORE going on the tour at registration tent located at the West Gate Lodge (2925 W Broad St) and for your complimentary tour book.
Past Westgate Home & Garden Tours
2022 Tour Homes
2019 Tour Homes
2018 Tour Homes
2017 Tour Homes
2016 Tour Homes
2015 Tour Homes
2014 Tour Homes
2013 Tour Homes
2012 Tour Homes
2011 Tour Homes
2022 Tour Homes
2019 Tour Homes
2018 Tour Homes
2017 Tour Homes
2016 Tour Homes
2015 Tour Homes
2014 Tour Homes
2013 Tour Homes
2012 Tour Homes
2011 Tour Homes
The Westgate Neighbors Association is a major sponsor and proud supporter of the Westgate Farmers Market. Visit their website for 2021 dates and more details.
Westgate Neighborhood Identity Film Workshop
The 
Franklin County Neighborhood Arts
 grant provides funding for community-based arts projects taking place throughout Franklin County. The program is designed to support community participation in the arts, and funds a wide variety of projects, from choral concerts to art therapy workshops. Organizations of all kinds (including, but not limited to, amateur arts groups, community centers, social services agencies, neighborhood associations, and cultural organizations) are encouraged to apply.
Amount Awarded:
$1,000
Project Title:
Westgate Neighborhood Identity Film Workshop
Project Description:
Two-part filmmaking workshop for Westgate residents
Completion Date:
September 9th, 2011The project we hope to implement in partnership with the Columbus International Film and Video Festival (CIFVF) is a two-part film-making workshop with the end product being a short film about Westgate. The project will be supervised by professional videographers from the CIFVF; the workshop participants (primary target audience) will be the residents of the neighborhood who are interested in learning the technical and/or creative components of filmmaking, creative storyboarding, acting and scriptwriting; and residents wanting to observe and/or collaborate on the creation of the film as a marketing tool for the neighborhood; and the community, prospective businesses and residents beyond our area (secondary target audience) who will be exposed to Westgate and its assets for the first time.The goal of the project is the complete production of a short film about the neighborhood by its residents that is informative and creative. The intended benefits to the neighborhood are providing a creative learning opportunity for residents to work with professionals from the CIFVF, creating a short film about Westgate to use as a marketing tool to potential businesses and new residents, to cultivate neighborhood pride, and to encourage residents to brainstorm for new, positive and creative aspects of Westgate.The Columbus International Film & Video Festival was produced by the Columbus Film Council
.
Representatives met w/ area residents over a two day period to secure raw video footage for our project.
Ohio Arts Council
|
GCAC
Add WNA To Your Address Book To Ensure Email Delivery!
Find your web-based email subscriber below, and follow the step-by-step instructions on how to add 
news@westgateneighbors.org
 to your address book.If your email provider is not listed below, please contact them directly.